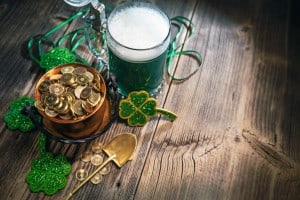 St. Patrick's Day, March 17, 2018, is a day for celebration for Irish communities throughout the world including Knoxville, Tennessee. Even the non-Irish celebrate by wearing green and eating corned-beef and cabbage. For many, it's also a day of parades and drinking. As with all drinking, there's no problem if you don't get behind the wheel.
Drivers who do drive after consuming a few beers, an apple martini, Green Guinness, some whiskey, or other intoxicating liquors are likely to lose control of their vehicle and kill or severely injury themselves, passengers, and other drivers. If you are convicted of a DUI (Driving Under the Influence of Alcohol or Drugs) offense, you can be forced to spend time in jail, will probably have their license suspended, and will pay fines and increased insurance premiums.
Practical suggestions for avoiding a DUI arrest on the Feast of Saint Patrick
In addition to keeping your car in the garage or on the driveway, drivers should consider the following DUI avoidance strategies:
Use a designated driver. The driver can be a friend or relative. The designated driver can also be a rideshare service such as Uber or Lyft, a taxi, or a co-worker. Designate the driver before you begin any celebrating – not after you've had your first drink.
Arrange to sleep over. If you're celebrating in Knoxville, make arrangements with the people you know to sleep at their home. If you're away from Knoxville, or away from friends, make a reservation at a motel or hotel. It's better to pay a few extra dollars for breakfast for your hosts or for an overnight stay, than to risk a DUI or cause a serious accident.
Purchase your own breathalyzer test. Consumers can buy their own tests which calibrate your blood alcohol level. Understand that passing the test does not mean you should drive. It takes, on average, between an hour and 90 minutes for the liver to process a 12oz beer. Tennessee has a .08 BAC limit for most drivers. The limits are even lower for commercial truck drivers and school bus drivers. If you fail the test, don't drive at all.
Plan your own party. If you really want to be safe, throw your own party, and invite the people you care about to spend the night. You won't have to drive, and you'll probably save a few bucks, too.
If you've been charged with driving under the influence, you need the help of experienced DUI defense lawyers. At Banks and Jones, our Knoxville DUI lawyers understand how to challenge chemical tests and field sobriety tests. We're Ready 2 Defend A DUI charge by questioning the validity of the police stop. To speak with a respected criminal defense lawyer, please call us at 865.407.2122  or complete our contact form to schedule an appointment.
Related Articles
Choose skilled criminal law attorneys who help you build a strong DUI defense