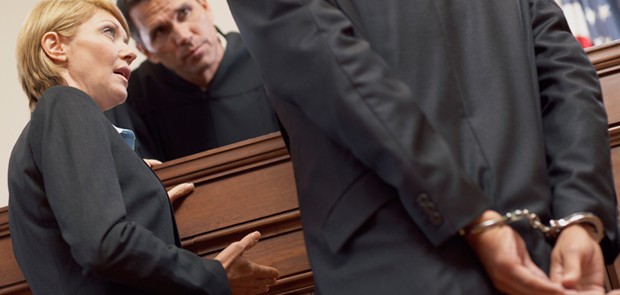 Felonies and Misdemeanors in Tennessee
Representing those facing criminal charges in Maryville, Sevierville, Clinton, Lenoir City & Loudon
Any type of criminal charge is a serious matter. Both misdemeanor and felony convictions can wreak havoc on your personal and professional life. Felonies, however, are punished much more harshly than misdemeanors. At Banks and Jones, we treat felony and misdemeanor cases with the same level of focus and urgency, always handling a case with the utmost competence and preparedness. We recognize that whether you are facing charges for reckless driving or aggravated robbery, you need professional help. Our lawyers are courtroom veterans who passionately defend your rights at every stage of your case.
Types of felonies
In Tennessee, felony crimes are serious offenses punishable by a year or more in prison. Depending on the facts of your case and severity of the crime, you could face other serious penalties, including steep fines and limits to certain liberties, such as your right to possess a firearm. Our adept defense lawyers represent clients accused of committing all types of felony offenses, including:
Aggravated assault — Aggravated assault is a very serious crime in Tennessee. Depending on the circumstances of your case, you face either Class C or Class D felony charges and could serve as many as 15 years in prison.
Burglary — Burglary charges are either a Class E or Class D felony. Aggravated burglary is a Class C felony, and especially aggravated burglary is a Class B felony.
Kidnapping — Kidnapping is the false imprisonment of another person. If you're convicted of kidnapping in Tennessee, you face Class C felony charges.
Robbery — Robbery is the act of stealing money or an item of value from a person. The state of Tennessee punishes robbery offenders severely. If you're convicted of the most basic form of robbery, you could face between three and 15 years in prison and $10,000 in fines.
If you are charged with any type of felony, seek the assistance of an experienced criminal defense law firm as soon as possible.
Types of misdemeanors
Misdemeanor crimes are lesser offenses and include crimes against public order and public safety and crimes against property. For example, if you are arrested for stealing $500 or less in money or property in the Knoxville area, the prosecution will likely charge you with petty theft — a misdemeanor offense punishable by no more than one year in jail. Similarly, possessing half an ounce of marijuana is a misdemeanor crime punishable by one year in jail and a maximum fine of $250.
The different penalties for misdemeanors and felonies
The primary difference between misdemeanors and felonies is that misdemeanors are penalized by a year or less in jail and felonies are punishable by more than a year in prison. Jails are municipal short-term detainment facilities, while prisons are long-term, state-run holding facilities. Furthermore, while both misdemeanors and felonies appear on your record, felony convictions can deprive you of certain rights, including your right to bear arms, your right to hold public office and your right to vote.
Get sound guidance from a reputable defense law firm
Throughout the Knoxville area, our attorneys at Banks and Jones are known for providing clients with trustworthy criminal defense help. If you or your loved one has been arrested and charged with a felony or misdemeanor, call 865-407-2122 or contact us online and speak with an experienced attorney today. Our regular office hours are Monday through Friday from 8:30 a.m. to 5:30 p.m., with other appointments available upon request.