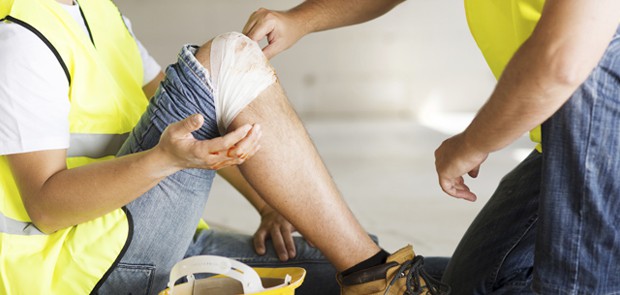 Knoxville, TN Workers' Compensation Lawyers Help Clients Who Suffer On-the-Job Injuries
Professional legal team serving clients in Maryville, Sevierville, Clinton, Lenoir City & Loudon
Led by fearless litigation attorney T. Scott Jones, Banks and Jones is a law firm that advocates for the injured. Experienced and aggressive, our legal team fights tirelessly to help injured workers obtain just compensation. We understand that as a victim, you may be unsure of how to file a claim or of whether you are eligible to receive compensation. Our attorneys quickly assess your case and determine the course of action most suitable for your situation.
Types of workers' compensation benefits
When workers suffer injuries on the job in Tennessee, they can generally collect workers' compensation. These benefits are paid by your employer or by your employer's workers' compensation insurer. It is mandatory for every employer in the state who employs more than five employees to carry insurance coverage for job-related accidents. This rule, however, does not apply to the construction industry. Depending on your injury, you may be entitled to the following workers' comp benefits:
Temporary disability benefits — If you have a compensable injury and you are unable to return to your job, you can receive temporary benefits. If you miss more than seven days of work, you may collect weekly payments. The weekly rate is determined by your gross wages.
Medical benefits — You may be able to receive medical treatment, at no cost to you, for as long as the authorized physician treating you deems necessary. If special treatment is required, your authorized treating physician can refer you to the proper specialist.
Permanent disability benefits — In the event that you never recover from your injury, you may be eligible for permanent disability benefits.
Types of workplace injuries
Any number of injuries can occur at the workplace, depending on the general environment. Brain injuries and catastrophic accidents are more common on construction sites, while office workers are more prone to developing conditions like carpal tunnel syndrome. Our firm assists clients who suffer the following types of work-related injuries in the Knoxville area:
Back and hernia injuries — If you lift a heavy box of office supplies, you could suffer a back or hernia injury. You might also sustain a back or hernia injury if you slip or trip and fall at a job site.
Trauma injuries — These injuries are caused by a force, strike or jolt. For example, a traumatic brain injury (TBI) occurs when there is a penetrating or nonpenetrating blow to the skull. TBIs and other traumatic injuries occur in falls, construction accidents and automotive crashes.
Machine-related injuries — Many jobs rely on machines to increase productivity. In the construction industry, machines can cause dismemberment or death if they malfunction or are used irresponsibly.
Falls — Slip and fall and trip and fall accidents can occur in or out of the office. Falls can cause traumatic brain injuries, broken bones, back injuries and neck injuries.
Overexertion — If you are required to use the same muscles day in and day out, you could develop a repetitive stress injury, such as carpal tunnel syndrome.
Work with a law firm focused on helping injured workers in Tennessee
You have worked hard all your life. But an injury on the job has put your working days behind you. At Banks and Jones, our lawyers are here to help you file a claim for workers' compensation. Call 865-407-2122 or contact us online to speak with an experienced attorney today.