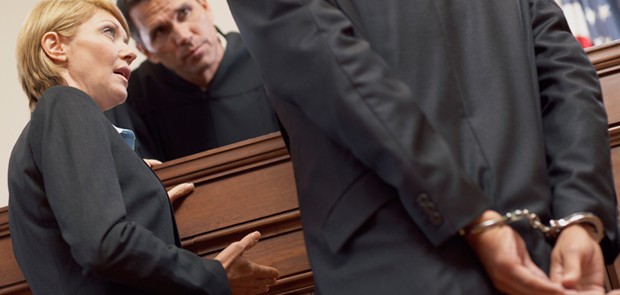 Knoxville, TN Criminal Defense Lawyers Fight Aggressively for Your Rights
Boldly defending clients throughout Knoxville, Maryville, Sevierville, Clinton, Lenoir City & Loudon
Being arrested for any type of crime is traumatic. The criminal justice system and process can seem daunting and intimidating, and one wrong move can land you in jail or prison. You want the help of a skilled lawyer on your side, fighting for your rights and your future.
At Banks and Jones, we are formidable Knoxville criminal defense lawyers who deftly handle the most complicated criminal defense cases. Not only do we support you and protect your rights, but we also work closely with you to develop effective defense strategies unique to your situation. For more than 25 years, our team has helped clients throughout the greater Knoxville area facing charges at both the state and the federal level.
The differences between felonies and misdemeanors
The criminal justice system charges offenders with either misdemeanors or felonies. Misdemeanors are lesser offenses punishable by up to a year in prison. Felonies, however, are more serious crimes punishable by more than a year in prison. A felony conviction can also affect your ability to obtain future employment and limit certain rights, including your right to vote, you right to bear arms and your right to hold public office.
Tennessee charges vs. federal charges
Most criminal charges are handled by the state, but in some cases, the federal government may get involved. It's usually a matter of jurisdiction, but there are certain crimes – like RICO charges, or interstate drug trafficking – that will always be handled at the federal level. If you are charged with a federal crime, you'll need an attorney licensed to practice in federal court to defend you.
If you are convicted, you may be sentenced to federal prison. There's only one Federal Correctional Institution in Tennessee (it's in Memphis), so if you are sent to a high-security penitentiary, you'll be sent out of state. We understand what kind of hardship this can create for your family and loved ones, and we fight hard to protect you, your family and your future.
What types of cases do you take?
Our experience team of Knoxville criminal defense lawyers routinely handles some of the most complex, high-visibility cases in Tennessee – but we also handle cases that other attorneys may let slip through the cracks. We believe that everyone is entitled to the best possible defense they can get, whether they are facing federal charges or a speeding ticket. You can rely on us to help you with:
Driving under the influence
If you are stopped for drinking and driving and your blood alcohol concentration (BAC) is .08 percent or higher, you may be charged with a DUI. If convicted, you could face jail time, costly fines and loss of your driver's license. Our lawyers have experience defending clients against DUI charges in Tennessee, and we know to help you avoid maximum penalties.
Additionally, if you are in danger of receiving a driver's license suspension because of a DUI or other traffic violation, we can intervene. Prior to having your license suspended, you have the opportunity to attend an appeals hearing. As experienced trial lawyers, we are in court every day and can represent you at your hearing with the utmost competence.
Reckless driving
You may be charged with reckless driving if you display a wanton disregard for the safety of others while driving. Such behaviors as speeding, swerving and tailgating may all be considered reckless driving. Most people do not realize that reckless driving is a Class B misdemeanor in Tennessee, punishable by up to six months in jail.
Drug crimes
In addition to carrying a stigma, convictions for drug crimes are punishable by lengthy prison sentences. If you face charges for the possession, simple possession, sale, delivery or manufacturing of marijuana, cocaine, methamphetamine or other illegal drugs, our Knoxville criminal defense lawyers can help you with crafting a solid defense.
Homicide
Taking the life of another human being is the most serious offense in the criminal justice system. But there are different types of homicide. Did you kill in self-defense? Was the homicide justifiable? To successfully defend against a homicide charge, you must retain experienced counsel. Our Knoxville criminal defense lawyers handle even the toughest cases, and we can provide you with trusted representation.
Robbery
In Tennessee, robbery is a theft crime against a person. The state treats robbery offenders harshly. Depending on whether you are charged with robbery or aggravated robbery, you could be facing a significant sentence. In fact, if you are convicted of aggravated robbery, you face penalties for a Class A felony — the most serious type of charge under Tennessee law — and could end up serving a lengthy prison term.
Theft
Theft crimes, even petty theft, can affect your ability to obtain employment in certain fields in the future. Some theft crimes are felonies, meaning that if you are convicted, you could face more than a year in prison. Confident and experienced, our lawyers are prepared to defend you in the courtroom and in all other legal proceedings.
Assault
If you are charged with a simple assault, you face misdemeanor charges and less than a year in prison. If, however, the prosecution charges you with aggravated assault, you could face felony charges and up to 12 years in prison.
Juvenile crimes
Everyone makes mistakes, especially children. But what you may not realize is that if your child is arrested, his or her future may be in jeopardy. When your child is arrested for drugs, drinking, DUI, theft or other crimes, you need professional help. Our Knoxville criminal defense attorneys provide high-quality legal services to parents of teens and children accused of committing juvenile crimes.
Secure a comprehensive criminal defense strategy from experienced and trustworthy attorneys
At Banks and Jones, we have a reputation for taking risks and coming out on top. But in every case we take on, our legal team always performs a careful risk assessment and only proceeds when we believe that doing so is your best interests. If you need serious help with a criminal matter, please call 865.407.2122, or fill out our contact form, and schedule a consultation with a skilled Knoxville criminal defense attorney today.