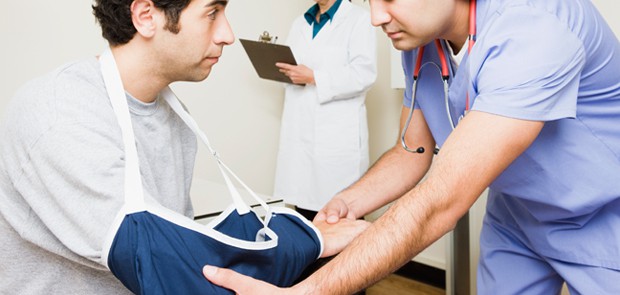 Knoxville Personal Injury Attorneys Maximize Your Compensation
Fighting for clients in Knoxville, Maryville, Sevierville, Clinton, Lenoir City, Loudon, and the surrounding area
If you suffer a personal injury in Tennessee, depending on the details of your case, you may be able to obtain compensation for medical expenses, loss of income and pain and suffering. But, in order to maximize your recovery, you should consult with an experienced lawyer. At Banks and Jones, our Knoxville legal team has more than 90 years of combined experience. After carefully reviewing your case, we can determine the best course of legal action. If your case should go to trial, you are in good hands — we are seasoned trial attorneys who fight tirelessly for you.
Types of personal injuries
Personal injuries range in severity. While some may cause temporary pain, others may be catastrophic and result in a permanent disability. The Centers for Disease Control and Prevention reports that injuries and violence combined kill more people between the ages of 1 and 44 than any other cause. If you sustain a burn injury, medical malpractice injury, or back or spinal cord injury, our attorneys at Banks and Jones fight aggressively to help you collect just compensation. Throughout Knoxville and the surrounding areas, our personal injury attorneys have represented clients who have suffered many different types of injuries, including:
Burn injuries — Burn injuries often occur in car, truck and motorcycle accidents. However, they can also result from defective products.
Head, neck and brain injuries — Trauma to the head, neck or brain can result in catastrophic or fatal injuries. Traumatic brain injuries are common in automotive collisions and slip and fall accidents.
Back and spinal cord injuries — Even a minor back injury can cause lifelong pain. More serious damage to the spine can cause partial or full paralysis or death.
Wrongful death — If you have lost your loved one because of the negligence of another party, your family may be able to recover damages, including funeral costs, pain and suffering, and loss of income by filing a wrongful death lawsuit.
Medical malpractice — When a doctor, hospital or nurse acts negligently and causes a patient harm, the victim has the right to file a medical malpractice lawsuit. We routinely assist clients who have been injured because of surgical mistakes, medication errors and hospital negligence.
Workers' compensation — If you suffer an injury at work, you may be eligible to receive workers' compensation. Our lawyers can review your case, assist you with filing a claim and fight for you aggressively if any issues should arise.
Products liability — Manufacturers have a duty to create safe products. If you purchase a product of any kind and it malfunctions or causes you harm, you may be able to file a products liability claim and obtain reimbursement for your injuries.
Tennessee statute of limitations
In the state of Tennessee, the statute of limitations for a personal injury action is one year. This means you only have one year to file a claim for compensation. After this time period passes, you may be unable to recover damages.
Contact a Knoxville personal injury law firm that never stops fighting for you
At Banks and Jones, our Knoxville personal injury lawyers meet the toughest challenges head-on. Regardless of how difficult your case may be, our attorneys are prepared to fight relentlessly for you. Call 865-407-2122 or contact us online to schedule a consultation to discuss your case with one of our highly qualified personal injury attorneys.