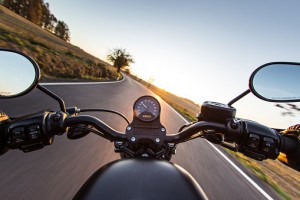 There is nothing like the call of the open road – especially when you can experience it on your motorcycle. We know a little something about the joys of riding here at Banks and Jones, given that T. Scott Jones races bikes at speeds up to 200 miles per hour. We want all riders to be safe and sound on the roads, so we have some safety tips for motorcycle riders that we'd like to share:
Always wear the proper protective gear, as it will provide some protection to you in case of an accident
Carry rain and snow gear with you as the seasons change, as you never know when you could get caught in a storm
Wear an appropriate helmet with a partial or full visor to protect your eyes from cold, dust, sun glare, etc.
Keep a close eye out for roadside dangers, such as fallen leaves, debris, and drivers who may be expecting to see fewer motorcyclists on the road
Make sure that your bike is in proper mechanical order at all times
Motorcycle safety is important
You should follow these safety tips because motorcycles do not have the same safety features as cars. As a result, motorcycles, including yours, can crash more easily. In 2015, 123 people died in motorcycle accidents in Tennessee, and there have been 110 motorcycle accident-related deaths in Tennessee so far in 2016. The latest one occurred in the early afternoon of September 12, 2016, when a motorcyclist struck a guardrail and died instantly on the corner between Tipton Station and Breeden Roads in Knoxville.
What injuries do motorcyclists sustain from crashes?
Not every motorcycle accident in Knoxville is fatal, but many riders still sustain serious injuries. Aside from the likelihood of from broken bones or traumatic brain injuries, they are also at risk of organ damage, spinal code injuries or crushing injuries. In addition, they experience a few injuries that are unique to riders: "road rash," which injuries resulting from skidding on paved roads, and "biker's arm," a condition caused by the first impact of the crash.
We want you to enjoy your time out on the roads this year. But if you are in motorcycle accident and sustain an injury as a result, you may have grounds for legal compensation. For more information, contact the Knoxville motorcycle accident attorneys at Banks & Jones, or call 865-546-2141 to schedule a free consultation. We fight on behalf motorcycle riders in Knoxville and throughout the Volunteer State.