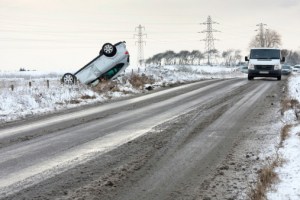 Rollover crashes look exciting on the TV set or on the big screen, so if you've never been in one, it's easy to understand why you might think they're a "safe" accident to have. Nothing could be further from the truth. According to the National Highway Traffic Safety Administration, rollovers are among the deadliest accidents there are. Up to 10,000 people a year die in rollovers, which account for around 2% of all crashes but 33% of all passenger vehicle fatalities.
Rollover accidents fall into two categories: tripped, which occurs "when a vehicle leaves the roadway and slides sideways, digging its tires into soft soil or striking an object such as a curb or guardrail," and untripped, where an overloaded vehicle rollovers over as the result of forces applied within the vehicle (such as swerving to avoid debris on the road).
Leading causes of rollover accidents
Taller vehicles – trucks, SUVs, Jeeps, vans – are more likely to roll because of the way their weight is distributed. But simply having a tall vehicle is no indication that you'll be in a rollover crash. The NHTSA lists a number of factors that often contribute to such accidents, including:
Driver error. Overcorrecting, swerving to avoid a pothole, letting your mind wander while you drift towards the side of the road – all of these can contribute to a rollover accident. Misjudging how you take a curve or turn can also cause your vehicle to roll.
Alcohol impairment. The NHTSA says that alcohol is involved in nearly half of all rollovers.
Road conditions. In the more rural parts of Tennessee, the roadway can literally wash out beneath your car. If you are traveling in an area that has been beset by storms, you can find yourself dropping over the side of the roadway if you come too close, swerving or skidding to avoid fallen trees and other debris, or hitting a guardrail as you try to stop from hitting a family of deer.
"Some 40% of fatal rollover crashes involved excessive speeding. Additionally, nearly ¾ of fatal rollovers took place where the posted speed limit was 55 miles per hour or higher" (emphasis theirs).
Most rollovers only involve a single car, which puts the pressure on drivers everywhere to stay vigilant and drive safely to reduce their chances of having one. If you drive the type of vehicle that is prone to rollover accidents, we implore you to buckle up: you are 75% less likely to die in a rollover if you have your seatbelt on. You are far more likely to be ejected from the seat and thrown out of the car, or even be crushed by the vehicle itself, if you are unrestrained.
If you were injured in a rollover crash in Tennessee, Banks & Jones can help. Please contact us to set up a free consultation with an experienced Knoxville auto accident attorney.