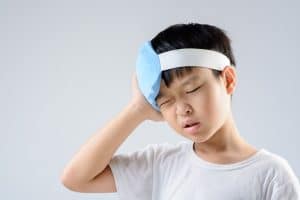 A recent study has correlated the occurrence of pediatric brain injuries to everyday consumer products used in many homes. The study shows how traumatic brain injuries (TBIs) in children, while commonly a result of sporting activities, also happen for other reasons.
The Brain Injury study
A pediatric brain injury occurs when the head comes into direct contact with an object resulting in a change in the way the brain handles and distributes information. The aforementioned peer-reviewed study published in the Brain Injury evaluated records from the National Electronic Injury Surveillance Program on young people under the age of 19. The study had access to over 4 million records involving TBIs in children between 2010 and 2013. The researchers carefully assessed the data, which included the causes of these injuries, in order to discover common trends.
The results of the researchers' study included a list of the top 10 consumer products that contribute to brain injuries in children. They are:
Basketball
Bed frames and beds
Bicycles
Walls and ceilings
Couches, sofas, chairs, and comparable products
Flooring
Football
Soccer
Staircases and stairs
Tables
These everyday products are present in most homes which means when children are around these products, the potential for pediatric brain injury is always present as well.
Most common causes of brain injuries in children
The researchers compiled the most frequent causes of pediatric brain injuries based on data in the National Electronic Injury Surveillance System. They discovered that:
Sports and recreational activities, such as soccer, basketball, and football accounted for almost 30% of all child brain injuries.
Furnishings and fixtures in homes, such as tables, chairs, and couches were associated with more than 17% of all head injury suffered by children.
Structural elements in homes, such as ceilings, walls, and floors were associated with about 17% of all brain injuries in children.
Nursery equipment was linked to about 3% of head injuries in children.
Toys for children accounted for approximately 2% of head injuries sustained by children.
The above statistics can help in the determination of how pediatric brain injuries occur and what effective intervention steps may be taken to avoid head and brain injuries in children.
How brain injuries happen
According to the research in the published study, the trends in the data indicate the following about three of the major causes of brain injuries in children:
Sports and recreational activities: Among children in school, sports and recreational activities are at the top of the list for causing brain injuries. Football, basketball, and bicycle riding are common causes of these injuries. It is important for children to wear helmets at all times while participating in a contact sport such as football or an activity such as riding a bike. This protection can reduce the frequency and severity of injuries that occur with these activities.
Falls from furniture at home: Children (particularly toddlers) who are unsupervised are susceptible to falling off of furniture in the home very easily. When babies and toddlers fall from chairs, tables, beds or other home fixtures, they can suffer pediatric brain injuries. A notable highlight in the research indicated that car seats were a common cause of brain injuries in toddlers and babies. Although car seats are highly effective when positioned and used properly in motor vehicles, they can easily fall from chairs and tables.
Slips and falls on uneven flooring or prefab stairs: Numerous head injuries in children below the age of four occurred as a result of slip and fall incidents. Children just learning to walk on uneven flooring can easily fall, trip, and hit their head on the floor. Children learning to walk up and down stairs can also lose balance and hit their head on the stairs or floor.
Any child who suffers one of these accidents and demonstrates symptoms of a head injury should be provided medical care as soon as possible.
If the injury occurred on someone else's property, and negligence was involved in some manner on the part of the property owner, the injured party may have a legal right to recover compensation.
If a particular product was defective and led to the child's injury, the injured party may also have a right to recover compensation in a product liability lawsuit.
If your child has suffered a brain injury due to exposure from a common consumer product or on someone else's property as a result of their negligence, our Knoxville TBI attorneys at Banks & Jones are here 2 Fight 4 You. We can thoroughly investigate the incident in question and fight for your recovery of any compensation you are owed. To arrange a free case review, give us a call today at 405.212.9234 or complete our contact form.