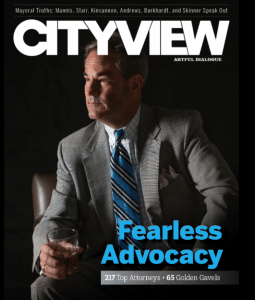 CityView Magazine's recent issue is titled "Fearless Advocates," and it honors the Top Attorneys in the Knoxville area. However, only one attorney could be on the cover, so why not choose the most fearless advocate there is? If you want to show people what "fearless" means, you need a lawyer who relishes the quest for justice. You need a lawyer who take cases to trial because that's what's best for the client. You need a lawyer who embodies what it means to fight.
That means you need T. Scott Jones. So of course, we're not at all surprised that he was CityView's choice – but that doesn't mean we're not all excited to see his face and power tie (and well-earned glass of bourbon) gracing the July/August cover.
In the accompanying piece, writer Nathan Sparks asked if it was really better to take a case to trial instead of settling out of court, or going through arbitration. This is what T. Scott Jones told him:
"The opposing counsel has to believe that your lawyer is absolutely willing to split the ring ropes, step into the ring, and actually go 12 rounds. If they don't think you have the will power or skill to actually try the case, then they are going to pay you substantially less than your case is worth. And, in the situation of representing the criminally accused, your client is likely to take a much longer sentence, or God forbid, one they don't deserve at all. This court avoidance seems inconsistent with the operating principles by which we as attorneys are trained, and yet it has become part of the legal system reality."
That's how we all feel at Banks & Jones: when a client's life or livelihood is on the line, there is no such thing as settling for less. At our firm, we practice the law. We prepare cases for trial every time, because, as they say, "practice makes perfect." And while we'll never say we're perfect – no person is – that desire to keep getting better and stronger is what drives all of us to keep working hard.
We know that even when a settlement is the best choice for a person we're representing, we cannot take any shortcuts in how we build and prepare that case just because we're not going before a jury. Preparing for trial helps us hone our skills. It makes us better negotiators. It makes us more comfortable in the process, and more confident in our abilities.
And there isn't a person here who didn't learn that lesson from T. Scott himself. He has literally made thousands of court appearances to earn his place as Knoxville's premier trial lawyer: strong, aggressive, and prepared at every step. No matter what kinds of curveballs a case might throw at him, T. Scott Jones can handle it. Even after 28 years of practicing law, he knows there's always something new to learn, to add to the decades of experience and knowledge that guide him every day.
You could say we're proud of T. Scott for making the cover of CityView Magazine, and we are. We cheered when the magazine came out, but it was an honor that was well-earned through years of tireless work. All of us at Banks & Jones know that when it comes to trying cases, being fearless is how you ensure that your clients get the best possible outcomes.
You simply have to Play 2 Win – every time.
Congratulations, T. Scott Jones, and thanks for nearly 30 years of fighting 2 win for the people of Knoxville and East Tennessee. Our community is stronger because we have you there to protect us.