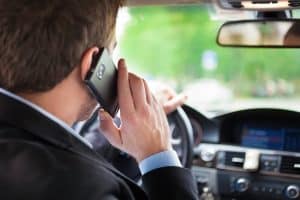 The state of Tennessee was recently branded with an unfortunate mark. Among all 50 states and the District of Columbia, it is the worst state for distracted driving deaths involving cell phone use. The study, released by Value Penguin, looked at the statistics on deaths in the state connected to cell phone use and driving from 2015 to 2017. Tennessee fared miserably when compared to all other states.
During this time period, more than 1,400 deaths occurred nationwide that involved some type of distracted driving. According to the National Highway Traffic Safety Administration (NHTSA), distracted driving is "any activity that diverts attention from driving." It can include many types of activities performed simultaneously while operating a motor vehicle. This includes texting while driving, using a cell phone in some other way, changing a radio station, looking down at a GPS, talking to passengers or on the phone, or participating in any activity that diverts your eyes from the road.
Tennessee leads the pack
Tennessee led the nation in the rate of distracted driving fatalities, according to the wide-ranging study. Across all states, on average there were 1.49 fatalities per every 10 billion vehicle miles traveled. This rate in Tennessee was 7.20, almost 5 times as high as the national average. Several states that followed behind Tennessee were:
Delaware – 3.28 fatalities
Wyoming – 3.22 fatalities
Texas – 3.00 fatalities
Montana – 2.91 fatalities
Another sobering statistic is that these five states accounted for nearly 1/3 of all distracted driving fatalities in the nation.
State laws on distracted driving matter
A connection was found between states having strict laws on distracted driving as opposed to those with less strict laws. For instance, the fatality rates among 13 of the states with the most stringent distracted driving regulations suffered fatality rates almost 30% lower than the states with more liberal regulations. To reinforce even further, states with total bans on cell phone use in a vehicle had fatality rates close to 44% lower than states without complete cell phone use bans on the books.
Current Tennessee law on distracted driving
To address the problem of distracted driving, the legislature in Tennessee has passed laws designed to restrict cell phone use in vehicles. For all drivers in the state, there is a total ban on texting while driving. However, drivers with an intermediate license or learner's permit are banned from using their cell phones while operating a motor vehicle. A handheld ban also applies for all drivers in Tennessee when driving through school zones when the lights are flashing. However, a complete ban of all cell phone use inside vehicles has not yet passed in the state.
In order to prove that another driver in Knoxville caused your injury as a result of distracted driving, you will need the assistance of an experienced car accident attorney. The evidence your attorney can gather includes the cell phone records at the time of the crash. This evidence can help you establish negligence under the law. If the driver was distracted in some other way other than through the use of a cell phone, you can meet the legal burden of proof by demonstrating the driver acted unreasonably based on the circumstances by choosing to focus on a distraction instead of the road.
If you have sustained an injury in a car accident with a distracted driver in Knoxville, Banks and Jones can help. Our team is Ready 2 Win your case by establishing the distracted driving status of the other driver at the time of your accident. We can help you pursue the entire amount of compensation you deserve under the law. To set up a free consultation with one of our experienced Knoxville attorneys, please call us today at 865.407.2122 or use our convenient contact form.