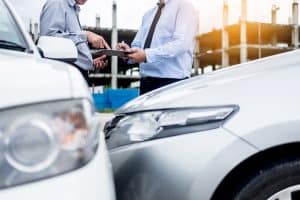 When serious accidents happen, drivers have a duty to contact the police. A serious accident usually means that a driver, passenger, pedestrian, or bicyclist was injured. If a car isn't drivable after a crash, that also suggests the accident was serious.
A question that often arises after an accident is, What must drivers do if the car accident doesn't cause any injuries or massive property damage? And where does Tennessee draw the line between minor accidents that don't need to be reported to the police, and serious accidents that do need to be reported?
The applicable Tennessee statutes
Let's first take a look at what the laws say:
Death
Personal injury
Property damage of $50 or more
There are additional requirements, a lawyer can explain, for striking an unattended car or a highway fixture. In every case, if someone is hurt, attention to that person's medical needs should take priority.
The duty to report the accident isn't the only key reporting decision. The drivers and owners of the cars must also review when they need to notify their insurance carriers. Even minor damage can be expensive to repair. Even minor injuries can escalate into chronic pain and long-term health care needs. Some injuries, such as whiplash, may not appear until a day or two after the accident.
As a general rule, the duty of drivers and owners to file reports with their insurance agent or carrier depends on the wording of the insurance policy contract. The contract should indicate when the company should be notified, how they should be notified, and the consequences for failing to notify the insurance company.
Owners who are concerned that their insurance premiums may go up more than a claim is worth should review their options and duties with experienced car accident lawyers.
At Banks and Jones, we understand how traumatic a car accident can be. The medical expenses to treat broken bones, spinal cord injuries, brain injuries, muscle damage, and cuts and bruises can be enormous. The daily physical pain and emotional suffering can be unbearable. Time away from work means not getting a paycheck. We'll Fight 2 Win you every dollar you deserve and to hold careless drivers accountable. For help now, call us in Knoxville at 865.407.2122 or complete our contact form.