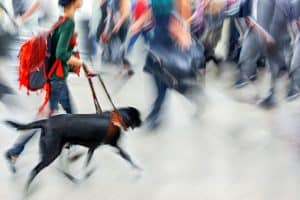 Generally, Knoxville homeowners who have a dog are liable if the animal bites or attacks someone, but the laws say you have to keep your pets "under reasonable control." We don't have a one-bite rule here, so the dog doesn't have to haver a record of bad behavior. Now, if someone breaks onto your property and the dog bites him, it could be different story – but by and large, you're responsible for your dog's actions.
But what if the dog isn't a pet, but a service animal? Or an emotional support animal (ESA)? Who's liable then for a dog bite?
Who can be held accountable for airport dog bites?
Fox11 News recently reported that the parents of the 5-year old were suing the Portland International Airport, Alaska Airlines, and the owner of the dog for more than one million dollars for a vicious attack by an ESA. The girl's injuries included damage "to the muscles, tendons, bones, nerves and soft tissue of her face, eye, eyelid, tear duct, and lip." Surgery was required to repair the lacerations and a tear duct that was damaged. The claims are based on the following:
Dog owner liability. 21 CBS DFW wrote that the claim against the dog owner is based on the theory that she, "should have known that her pit bull was displaying threatening and aggressive behavior and possessed vicious propensities."
Airline liability. CBS also stated that the Alaska Airlines claim is based on "allegedly allowing [the dog owner] to bring a dangerous dog into the gate waiting area without being confined or trained."
Airport liability. Fox 11 claims that the lawsuit against the airport claim is based on its failure to have effective emotional support dog polices in place at the time of the incident. Specifically, the plaintiff claims the airport should have required that the emotional support dog be placed in a pet carrier.
How the same thing would've played out in Tennessee
Our laws give no guidance about service animals or emotional support animals – but the law does say this: that an owner may not be liable if "The injury occurred while the dog was protecting the dog's owner or other innocent party from attack by the injured person or a dog owned by the injured person," or if "The injury occurred as a result of the injured person enticing, disturbing, alarming, harassing, or otherwise provoking the dog."
If you can prove that your service animal or ESA was provoked in some way, or thought you were in danger, you may not be responsible for compensating the injured person. However, if your dog was off his leash, or should have been in a crate, then you would bear responsibility for the attack.
Is the airport liable for a dog bite injury?
If you were bitten by a dog in an airport, it is possible that the airport and the airline could bear some liability – especially if their rules regarding animals were not clear, or were not being enforced. For example, Nashville requires that any pet in a passenger terminal be crated, but service dogs can be leashed. ESAs are not considered "working animals," so they should have to be crated. McGhee Tyson Airport, on the other hand, appears to only allow service dogs, which would include military service dogs (which are excluded from all liability).
At Banks and Jones, our premises liability lawyers hold commercial, nonprofit, public, and private owners liable when they fail to properly keep their properties safe for visitors and consumers. We file claims when dog bites, slips and falls, attacks due to negligent security and other injuries occur due to improper safeguards. If your child or you were hurt while on the property of another, call Banks and Jones for help holding those responsible accountable for any injuries. To make an appointment, call our Knoxville office now at 865.407.2122 or use our contact form.