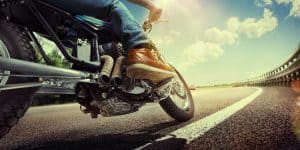 According to a Florida Atlantic University and University of Miami study, motorcycle accidents and deaths across the nation have decreased as states have implemented various types of distracted driving laws. These laws prohibit the motorists' use of cell phones and other handheld devices while driving.
The law and motorcyclists
Motorcyclists are involved in a significantly higher rate of traffic fatalities when compared to the number of motorcycles among all vehicles and miles driven in the United States. The authors of the study accessed data from the Fatality Analysis Reporting System (FARS) on motorcycle-specific and total traffic deaths throughout the entire nation that occurred between 2005 and 2015. The effectiveness of various distracted driving bans (weak, moderate, strong laws) was evaluated by merging this data with various state specific characteristics and traffic policies, such as texting and handheld device laws.
Although vehicle safety has improved due to technology over the last several decades leading to a reduction of traffic fatality rates, motorcycle deaths rates have not declined at the same time. According to the study, the risk to motorcyclists from distracted driving is higher than the risk faced by the driver and occupants of standard vehicles or trucks. Therefore, these policies have the potential to significantly benefit motorcyclists. According to the research, distracted driving laws served to deter multiple vehicle crashes more so than single vehicle crashes.
Per to the Insurance Institute for Highway Safety, currently 16 states including the District of Columbia prohibit talking on a hand-held cell phone while driving. The use of cell phones by inexperienced drivers is banned in 38 states, including D.C. Texting while driving is prohibited in 47 states, plus D.C. Every day, about 1,000 people are injured and 9 people killed in accidents that involve distracted drivers. The authors of the study expressed hope that its findings will enlarge a dialogue between lawmakers, law enforcement personnel, and the general public concerning the serious issue of distracted driving and traffic safety.
Greater vulnerability to motorcyclists
The results of the study prove that motorcyclists are much more exposed to serious injury when the victim of negligent drivers compared to motorists operating cars, SUVs, and trucks. A motorcyclist has much less protection and greater exposure to high-speed impact with objects. As a result, the injuries suffered by motorcyclists in these accidents are often very serious or fatal.
It is crucial to have the services of an experienced Knoxville motorcycle accident attorney who can fight for your rights when you have sustained injuries in a motorcycle crash involving the negligence of another party.
At Banks and Jones, our Knoxville, TN motorcycle accident attorneys fight vigorously for motorcyclists and their families when they face injury due to the negligent or reckless actions of another party on the road. We can evaluate your accident, investigate the causes, and determine the order of events to establish the liability of one or more other parties. We will fight hard to help you recover the damages you are owed for your losses, including lost wages, pain and suffering, and medical expenses. To set up a free consultation with a compassionate attorney from our team, call us today at 865.407.2122 or fill out our contact form.