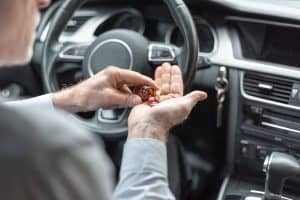 Being hit and injured by drivers who are high on prescription drugs, non-prescription drugs, and/or illegal drugs always has been a problem. However, the number of auto accidents related to people who are high on opioids, marijuana, and other drugs has been increasing recently, in part because some states have legalized the use of marijuana – and opioids seem to be everywhere.
If you are injured in a crash with a drugged driver, you have the same rights as you would with any collision: the right to make a claim for compensation for your medical bills, property damage, and pain and suffering.
I've been hit by a drugged driver: what do I do?
First off, if you are injured, call an ambulance. Get yourself to a doctor to be checked out. If you don't feel like you were injured in the crash, you should still make an appointment with your doctor within a few days, to make sure everything is fine. Sometimes, the adrenaline pumping through your body can mask the pain of the injury, so it's better to be safe than sorry. This is especially true of you hit your head, have difficulty breathing, or exhibit any of the signs of internal bleeding.
You also have the right to file a claim with the drugged driver's car insurance provider. If the provider offers you a fair settlement offer, you can take it – but in our experience, most offers aren't very fair. You'd be better off calling us to have us negotiate the settlement on your behalf, because we know what kinds of costs car accident victims have to pay. Besides, if the insurance company won't play ball, then you've already lined up a team of skilled litigators who are familiar with your case, and who will Fight 2 Win for you in court.
Remember this, too: injuries caused by intoxicated driving can be non-bankruptable, and can allow you to have a permanent lifetime judgment against someone. You don't want to lose out on compensation that should be rightfully yours, so give us a call.
You also have the right to press criminal charges against the drugged driver who hit and injured you. However, whether the drugged driver is charged and/or convicted isn't up to you: it's up to the prosecutor and the judicial system. If the drugged driver who hit and injured you is convicted of driving under the influence of DUI, though, your civil case against him or her will be extremely strong.
As long as there are drugs, there will be people high on drugs behind the wheel. You'll want a team of Knoxville car accident lawyers who can help you claim the compensation you need. Since Banks and Jones also handles criminal cases, you get the added benefit of our ability to see how a case might proceed from both sides the aisle. We leverage that knowledge to build a stronger case for you.
If you or a loved one was hit by a driver who was high on drugs, and sustained injuries as a result, contact the Knoxville car crash attorneys at Banks & Jones, or call 865-407-2122. We are very proud to represent clients in Knoxville and throughout Tennessee. Let us Fight 2 Win for you!