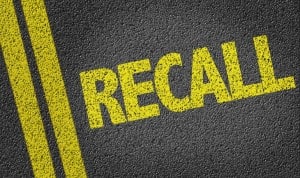 An auto recall is when automakers or the National Highway Traffic Safety Administration (NHTSA) has identified a safety defect in one or more vehicle models. As a result, the vehicle with the defect violates the safety standards established by the federal government, and a defect can concern either the entire vehicle or a part thereof, such as the design. Therefore, a recall can involve:
Broken steering parts
Broken or stuck accelerator controls
Fractured wheels
Malfunctioning windshield  wipers
Wiring issues, which cause fire or light loss
Collapsing car jacks, which injure a person who is working on the vehicle
Airbags, which activate at the wrong time
If your car is on the recall list, you should be notified with a letter. You can then bring your car to a dealership, and have the part replaced for free. Understand, though, that in large-scale recalls (like Takata's airbag recalls, for example, or Volkswagen's emissions recall) that it can take a long time to have that part replaced. Sometimes there are so many vehicles affected, the manufacturers run out of parts. This is why you should try to make any appointment as soon as you possibly can.
What is a recall letter?
A recall letter is a document you receive from your vehicle's manufacturer or the NHTSA informing you that your vehicle is on a recall list. The recall letter you receive should describe:
The defect
The dangers, which the defect poses
The injuries, to which the defect can lead
The manufacturer's plan to correct the defect
It also should tell you what to do next. Federal law dictates that automakers notify owners of recalled vehicles so that owners can have the defect corrected by the manufacturers for free.
What does a product liability lawsuit involve?
If you sustain an injury because of the defective part, you may be able to file a product liability lawsuit against the manufacturer. In a product liability lawsuit, you assert that your vehicle was defective on the day you purchased it, that you drove it the way it was supposed to be driven, and that the defect caused you to suffer damages.
What other information about auto recalls should I know?
Recalls don't remain in effect forever. The NHTSA says that free repairs remain available for only a decade since the initial sale date, though tires on recalled vehicles must be repaired within two months (or sixty days) of the recall notification.
If you, a friend, and/or a relative got injured as a result of a vehicle defect, contact our crash attorneys at Banks and Jones, or call us at 865-546-2141. We always Fight 2 Win!