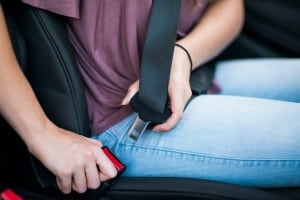 Seat belt use saves lives: period. The U.S. Centers for Disease Control and Prevention has crunched those numbers for us. In 2014, the CDC found:
In fatal crashes, more than 50% of teens and adults under 44 were not wearing seat belts.
About 1 in 7 people don't use a seat belt.
Overall seatbelt use throughout the country was 87%.
The National Transportation Safety Administration (NHTSA) published a report recently that shows overall seat belt use in the U.S. in 2016 has reached an unprecedented level of 90%. This is the highest level since the federal government began tracking seat belt use in 1994. "The best way folks can protect themselves in their cars is by wearing a seat belt," said U.S. Transportation Secretary Anthony Foxx. "Whether you're a driver or passenger, in the front seat or back, the simple act of wearing a seat belt significantly reduces the risk of fatality and major injury in a crash." The NHTSA's Traffic Safety Facts for seat belt use in 2016 reveals that seat belt use in 2016 reached 91.6%, which is up from 88,5% in 2015. The use of safety belts in vehicles has been on an upward trend since 2000, which has caused a steady decline in the number of unrestrained passengers killed in car crashes.
Tips for increasing seat belt use
Seat belts only save lives when you use them. The NHTSA and CDC both stress how vital it is for all passengers in the vehicle to wear a seat belt for every trip in the car no matter how short. Here are a few tips from the CDC about what can be done to increase seat belt use:
Drivers can set the example by always wearing a seat belt and making sure passengers do the same
Make sure that child passengers are safely buckled in to a safety belt, booster seat or infant car seat, whichever is appropriate to their size and age.
Children under 12 should ride in the back seat. (Front passenger airbags were designed to restrain adult passengers and could severely injure smaller people)
Have you or someone you care about been injured in a car crash in Knoxville? Banks & Jones is here to help. To find out more about our services, or to schedule a free consultation with one of our Knoxville car wreck attorneys, please call 865.407.2122, or fill out our contact form.