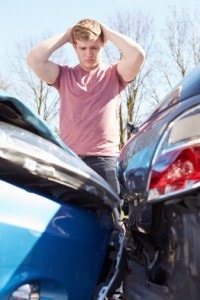 It's a nightmare scenario: you're driving along when all of a sudden your vehicle is hit by another car, or a car stops short in front of you, or you swerve to avoid a deer and you hit a tree. Your car is a wreck, you're completely shaken up, and you've no idea what to do next.
At Banks & Jones, we've heard stories like these (and so many more) time and time again from drivers in Knoxville. Auto accidents may not always be preventable, even when you're doing everything right. There are a few things you can and should do after you've been in an accident to ensure your own safety, the safety of any passengers, and your security in the future.
Move the car out of the roadway. If you can, move your car over to the side of the road and turn on your hazards. If the car is unmovable, but you can get out of the car, then block it off with some road flares and then move over to the shoulder yourself.
Call an ambulance. If you cannot move, if you are injured, or if one of your passengers is injured, call for ambulance. Stay where you are and wait for them to come help you.
Call the police. Before you even call your insurance company or your roadside assistance provider, call the cops. Getting an accurate police report as soon as you can after the crash is an important step. It will be crucial if there is a problem later.
Now, call the insurance company. Once everyone is safe and secure, or an ambulance is on its way, call your insurance company and report the incident. If you are hit after their office has closed for the night, just leave a message.
Take lots of pictures. Document the damage to your car, to the other vehicle, and to any property that may have been damaged in the crash. Make sure to take pictures of the vehicle's license plate (just in case). If you can, take pictures of your own injuries, too.
Exchange information with the other driver. If both you and the other driver can walk and talk easily, exchange all the pertinent information you need: names, telephone numbers and the names of your insurers.
Stick to the facts. Most people are naturally a bit frazzled after an accident. Whatever you do, do not admit fault. Not to the cops, not to the ambulance driver, not to your passengers and not to the other driver – admit nothing to anyone. Even if you truly believe you played a role, tell only the facts of what happened to the police officer and nothing more.
Call a Knoxville car accident attorney. Our team regularly represents people who have been injured in auto accidents in Knoxville, which means we know the ins and outs of the legal system as well as the all of the roads where you might have been hit. We know which roadways are dangerous, where you are most likely to be blinded by the lights on an oncoming car, which traffic lights last longer than others; in short, we know Knoxville like the backs of our hands.
When you are bit by another car, or have an accident of some kind, your first concern should always be the health and safety of yourself and your passengers. But just because you don't think you're hurt right then, doesn't mean that you won't discover an injury after the swelling goes down and your heart stops racing. You may be entitled to compensation for those injuries, which can help you cover the costs of your medical bills, make up for your lost wages, and offer you some security for your future.
To make an appointment with an experienced Knoxville car accident lawyer, please contact Banks & Jones today. We can help you plan out your next steps.